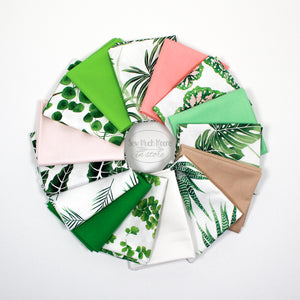 Botanicals Super Bundler
You don't need a green thumb to bring your space to life with beautiful plants!
Living Pattern brings her mastery of watercolor to fabric stores with Modern Botanicals.
These prints feature household favorites like bold monstera leaves, delicate succulents, lush ferns and other tropical houseplants.
Sew your own clothes with these patterns, or add them to cute DIY accessories like twist headbands and scrunchies! They look amazing on home décor like floor cushions, baskets, and curtains, too! The bold green and white color palette makes these perfect to explore the monochromatic modern quilt trend, or add a pop of rich detail in just the right spot. 

I have paired prints with lovely Fat Quarters of Painters Palette.
Just take a look at this lovely bundle and grab it quickly because it is one of a kind and once it's gone - it's gone forever!
All pieces measure approx. 18" x 22"
---
We Also Recommend