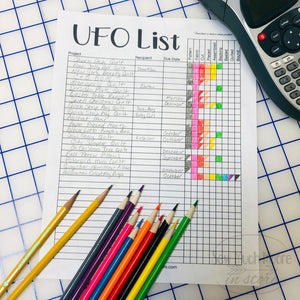 UFO List PDF Printable
Now is the perfect time to get your sewing and quilting life organized!  In an effort to help you accomplish your goals, I've created this Printable PDF for your UFO list!
What is a UFO?  A UFO is an unfinished object!  Some people call these a WIP (work in progress).  Most of us have more than one project in progress at once.  Some have so many - it might be overwhelming to understand all you have!
This is the perfect page to capture your projects and help you stay on track!
Take specific note on the status of each project with these stages:
Pattern

Fabric

Cut

Pieced

Assembled

Backing

Basted

Quilted

Bound
Make note of who the project is for and jot down a deadline too!  All these notes are helpful when keeping track of your UFO's.
Watch the video tutorial to help you understand how to use this valuable resource!  Learn more right HERE.