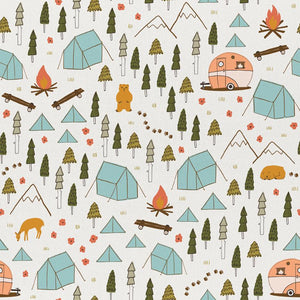 VINTAGE CAMPING - Campsite - 120-20121
Vintage Campers on a white background is a charming print that takes the great outdoors to a whole new level!  The camper varieties are fun and nostalgic.  Take me camping!!
Check out the entire VINTAGE CAMPING collection!
Ready for an adventure? Then let's go into the woods. Inspired by cherished childhood camping trips, this charming collection takes you along for the ride out into the great outdoors with prints of cozy campers, snow-capped mountaintops, and cuddly deer and bear friends. The soft retro color schemes of these patterns invoke a sense of nostalgia, but designer Crissie Rodda's contemporary Danish sensibilities keep this fabric feeling fresh and modern! Create an adorable onesie for your baby adventurer, or bring the outside in with playful accessories like tents, bags, novelty pillows, and DIY stuffed toys.
Contents: 100% Cotton
Fabric Weight: Lightweight
Width: 44"
Washing instructions: Machine wash cold, delicate, tumble dry low. Do not bleach.
Designer: Crissie Rodda
Brand: PBS Fabrics 
---
We Also Recommend